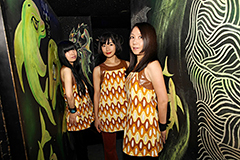 りつこ、産休のお知らせ
少年ナイフのベース&ボーカルのりつこがこの度新たな命を授かり、しばらくバンドを離れることとなりました。
出産の無事を祈りつつ、また一日も早くバンドに復帰できる日が来るよう彼女にエールを送りたいと思います。

なお、現在決まっているライブについて、6月に行われる米国ツアーにはオリジナルメンバーのあつこが参加します。
また、5/31の大阪ファンダンゴ、712 DAY PARTYの東京・名古屋・大阪に関しては以前から親交があった「なる」が参加します。
先日の四つ葉のクローバーツアー大阪公演でナイフグッズ販売を担当していたのでご存知の方もいらっしゃるのではないでしょうか。
今後共、少年ナイフをよろしくお願いします。
メンバー&スタッフ一同
———–
Ritsuko's maternity leave
There is some exciting news in the world of Shonen Knife, this month our bassist Ritsuko will be going on maternity leave.
Mother and baby are in good health. We are praying for her safe delivery and quick return to the band.
For Shonen Knife's US Tour 2015 in June, original member Atsuko will be joining the band as bassist for the shows.
It will be a unique opportunity for US fans to see Atsuko performing on bass for the first time in nearly a decade in the US.
Also, for the upcoming show on May 31st at Fandango, Osaka and our annual 712 DAY PARTY tour in Tokyo, Nagoya and Osaka, our friend NARU will play the bass.
Thank you very much for your support and encouragement for Shonen Knife.
From members and staff
———–
最近オメデタニュース多いなぁーって思ってたらなんと!私も妊婦になりました。
アメリカツアーはオリジナルメンバーのあつこさんが参加してくれるそうです。感謝です!
そしてこれからのライブに参加される、なるさんもきっと素敵な人です。
少年ナイフに関わる人はいままでもこれからも素敵な人だから。
その中に自分が関われたことを幸せに思います。
そしていつの日か、再び少年ナイフでプレイするときが来れば、そのときはみなさんよろしくお願いします!
私は今までもこれからも、ずっと少年ナイフを応援しています。
りつこ
I have a baby on the way!!!
Am I following similar "got pregnant stories" frequently made public recently in the gossip columns?
No!! Mine is the real happy love story!!
I am very happy now, even though I will miss the upcoming North American tour.
I am grateful to Atsuko-san for rejoining Shonen Knife in the upcoming tour.
Also, I know that Naru-san is the most charming and talented bassist who will take my part from now on.
I am very happy to recall that I have been given a part in the activities of Shonen Knife together with the charming members and staff of Shonen Knife.
I do hope I will have a chance someday to return to the stage and perform in front of the enthusiastic Shonen Knife fans.
I will remain unchanged as one of the most dedicated fans of Shonen Knife.
Thank you.
Ritsuko
Related Releases
嵐のオーバードライブ

2014/04/16 CD PCD-25163 定価:¥2,625(税抜¥2,500)