ジャンル: dubstepイベント/スケジュール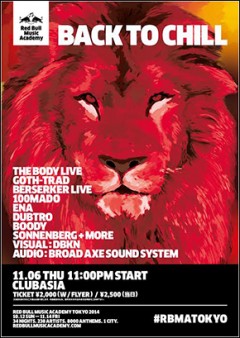 『Back To Chill – A Red Bull Music Academy Special with The Body』
日時: 2014年11月6日23:00
会場: clubasia (渋谷区円山町1-8)
料金: 2,000円(w/ Flyer) / 2,500 円(当日)
※20歳未満入場不可/要 写真付身分証
出 演: The Body (LIVE), GOTH-TRAD, BERSERKER (GOTH-TRAD + MUROCHIN) (LIVE), ENA, 100MADO, DUBTRO, Boody, Sonnenberg, π, メメ, yuitty, Visual: DBKN, Soundsystem: Broad Axe Sound System
Red Bull Music Academy Tokyo 2014関連イベントの全スケジュールとチケットの入手方法については http://www.redbullmusicacademy.jp/jp/events をご覧下さい。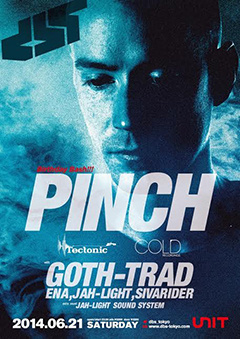 DBS presents
PINCH Birthday Bash!!!
6.21 (SAT) @ UNIT
feat. PINCH
(Tectonic, Cold Recordings, Bristol UK)
with: GOTH-TRAD(Live),
ENA, JAH-LIGHT, SIVARIDER
extra sound:
JAH-LIGHT SOUND SYSTEM
open/start 23:30
adv. 3,000yen door.3,500yen
more info.
info. 03.5459.8630 UNIT
http://www.unit-tokyo.com
http://www.dbs-tokyo.com/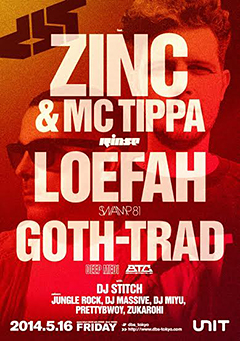 DBS presents
『ZINC x LOEFAH x GOTH-TRAD』
DATE: 2014.05.16 (FRI) @ UNIT
feat.
ZINC & MC TIPPA
LOEFAH
GOTH-TRAD
with:
DJ STITCH
saloon:
JUNGLE ROCK
DJ MASSIVE
DJ MIYU
PRETTYBWOY
ZUKAROHI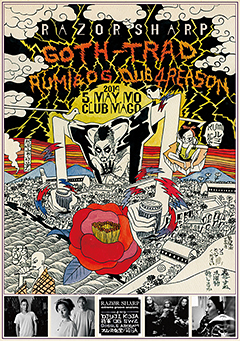 【fluid-Nagoya presents
RAZOR SHARP】
DATE:2014/5/5
VENUE:at club Mago名古屋
OPEN:22:00〜LATE
PRICE:DOOR¥3000 / With Flyer¥2500
[CAST]
GOTH-TRAD (DEEP MEDi MUSIK/Back To Chill) / RUMI & OG / DUB 4 REASON (from GUFU) / Campanella (MdM/返杯) / DJ UJI (GOOD WEATHER/LOTUS) / KOJA (IF…/返杯) / 将軍 (RAZOR SHARP/返杯)
[Gallery MUKU]
OG (Militant B) / SWZ (LOTUS) / GOGGLE (GOYA) / ABODAM (Neutrino)
[FOOD]
スムース食堂 / cafe G.A.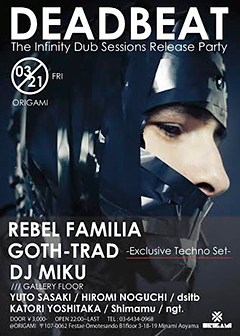 『DEADBEAT "The Infinity Dub
Sessions" Release Party』
日程:2014/3/21(Fri)
会場:ORIGAMI
OPEN:22:00
PRICE:3,500yen
[出演]
MAIN FLOOR:DEADBEAT / REBEL FAMILIA / GOTH­TRAD ­Exclusive Techno Set­ / DJ MIKU / SHIGETO TAKAHASHI
GALLERY FLOOR:ngt. (rebel base) / SHIMAMU (Chord Memory) / HIROMI NOGUCHI (groundrhythm) / KATORI YOSHITAKA (Flowers)
《ORIGAMI》
〒107­0062
東京都 港区 南青山 3­18­19 FESTAE表参道ビルB1F(表参道交差点)
[電話] 03­6434­0968
[URL] http://origamientertainment.jp/
[facebook イベントページ]
https://www.facebook.com/events/1410325882558580/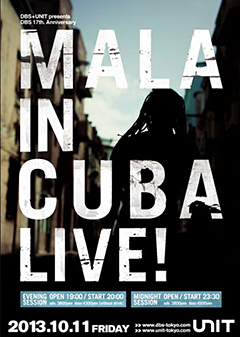 DBS + UNIT presents
DBS 17th Anniversary MALA IN CUBA LIVE!
【EVENING SESSION】
DATE:2013.10.11 FRI
open 19:00 / start 20:00
adv¥3800 / door¥4300 (without drink)
※未成年割:未成年(20歳未満)の方には当日入り口にて500円キャッシュバック(要身分証)
[LINE UP]
LIVE : MALA IN CUBA LIVE!
・MALA (mixing desk)
・SWINDLE (keys)
・OLIVER SOARES (congas & bongos)
・TAKASHI NAKAZATO (timbales)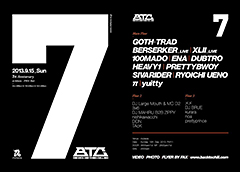 "Back To Chill 7th Birthday Special!!!!"
DATE: 9/15
VENUE : clubasia Tokyo
OPEN: 23:00 ~ LATE
PRICE: DOOR: 3000yen/1d
: with Flyer: 2500yen /1d
: Girls: 2000yen (no drink)
: with BTC coupon: 2000yen /1d*
*BTC Discount coupon will be available on the page,
also at BTC blog >>> http://dubstep.exblog.jp/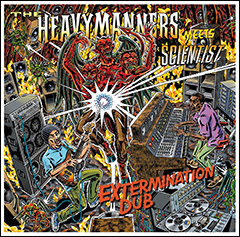 fluid-Nagoya presents RAZOR SHARP
HEAVYMANNERS meets SCIENTIST
"EXTERMINATION DUB" RELEASE PARTY IN NAGOYA
日時:2013年9月15日(日・祝前)
会場:名古屋club MAGO
出演:THE HEAVYMANNERS (from TOKYO) / DUB 4 REASON (from GIFU) / Kuri-Inity (KALAKUTA DUB) / DJ UJI (音韻王者.REC/GOOD WEATHER) / YE YE (MIWA + NAO) / 将軍(RAZOR SHARP) / GARALLEY SPACE "海の家スロー" / DUB CARNIVAL CREW (from MIE) / MIPITIX(from HIMEJI) / GINZ-I / チワワ
時間:22:00 open/start
adv:with flyer 2,500yen / door 3,000yen
INFO:http://razorsharp-nagoya.info